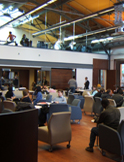 The ICHL 2013 will be held at the thriving community of
Woodsworth College at the University of Toronto
.
Woodsworth College was founded in 1974 and is a college within the University of Toronto. It is the largest college in the Faculty of Arts and Science at the University's St. George Campus.
Woodsworth College was named after J.S. Woodsworth who was an advocate for social justice, a Member of Parliament and a founder of the Co-operative Commonwealth Federation (CCF), the forerunner of the NDP.
In addition to being a locus of student life, Woodsworth is the sponsor of a variety of academic programs consisting of two undergraduate programs, Criminology and Employment Relations; three first-year seminar courses; Certificate programs in Teaching English to Speakers of Other Languages and Human Resources Management; Teaching in Higher Education; Summer Abroad Programs; and the Visiting Students Program.
In the fall of 2009, the beautifully renovated Kruger Hall Commons (formerly the Drill Hall) opened. The space provides study, meeting and social space for students and alumni.